Robert Hall Winery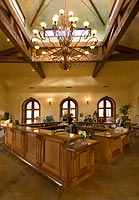 Paso Robles, CA
Robert Hall Winery is an Estate Winery located near Paso Robles in the heart of Central California's Wine region. Pults and Associates' responsibilities included the master planning, entitlements, facility design and permitting, as well as project management. The Robert Hall Winery consisted of three distinct phases.
The first phase of design and construction was the subterranean cut and cover caves totaling 19,000 square feet. The second phase was the 21,000 square foot production winery, followed by the 11,000 square foot phase three hospitality center.
The Architectural character, although contemporary, contains elements of recall of historic downtown Paso Robles. The used brick clad Hospitality center serves as the icon for the Robert Hall winery campus. Arched brick colonnade, water features and tower highlight the structure.
The Robert Hall Winery is a visitor center as well as winery, and the facility includes banquet and wedding capabilities, amphitheater for performance events, and a world class tasting room. The tasting room tower offers spectacular views of Robert hall Vineyards and also provides access directly down to the caves, offering a unique and rewarding visitors experience.